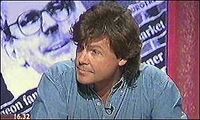 Rupert William Simon Allason (born 8 November 1951) is a military historian and former Conservative Party politician in the United Kingdom. He was Member of Parliament (MP) for Torbay in Devon, from 1987 to 1997. He writes books on the subject of espionage under the pen name Nigel West.
Legal Actions
Edit
Allason has been involved in a number of legal cases, and he represented himself without lawyers.
While in the House of Commons he campaigned against the use of Public Interest Immunity Certificates, and exposed the arms-dealing activities of the billionaire publisher Robert Maxwell. He was sued for libel by Maxwell, but won the case winning record damages for a litigant in person by counterclaim.
In 1996, Allason sued Alastair Campbell for malicious falsehood with regard to an article printed in the Daily Mirror in November 1992. The jury found in Allason's favour, although he was not awarded damages. In a retrial in 1998, he was awarded £1,050 in damages and 75% of his costs.
In 1998 he brought and lost a libel action against the BBC show Have I Got News For You, suing over comments made in a book based on the show published in 1996, which read: "...given Mr Allason's fondness for pursuing libel actions, there are also excellent legal reasons for not referring to him as a conniving little shit".
In 2001, Allason sued Random House, the publishers of Enigma Spy, an autobiography of the Soviet agent John Cairncross. Allason claimed he had ghostwritten The Enigma Spy in return for the copyright and 50% of the proceeds. However, Allason lost the case, and was ordered to pay costs of around £200,000. In passing judgement the trial judge said Allason was "a profoundly dishonest man" and "one of the most dishonest witnesses I have ever seen". In September 2005, Allason was given a suspended 6-month jail sentence for contempt of court in relation to paying the damages from the 2001 case.
Personal life
Edit
In 1979 Allason married heiress Nikki van Moppes, and the couple had two children. They divorced in 1996.